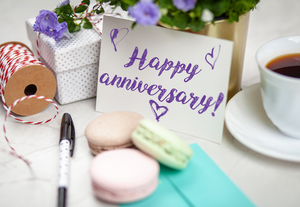 Anniversary Jewelry Gift Guide
Anniversaries have a special place in our hearts. For every year you've been together, another year of love and partnership has blossomed. They can be as exciting as your first year dating or as honorary as your fiftieth year married. Each anniversary is just as important as the last and should be celebrated with as much love as the first.
ANNIVERSARY JEWELRY GIFTS BY YEAR
1st Anniversary Jewelry: GOLD or PERIDOT
5th Anniversary Jewelry: SAPPHIRE
10th Anniversary Jewelry: DIAMOND
20th Anniversary Jewelry: EMERALD
25th Anniversary Jewelry: SILVER
30th Anniversary Jewelry: PEARL
40th Anniversary Jewelry: RUBY
50th Anniversary Jewelry: GOLD
ANNIVERSARY JEWELRY NEAR ME
Looking for the perfect anniversary gift in Boca Raton? Devon's Diamonds & Decor has got you covered! Celebrate your love and make a memorable statement with our beautiful collection of anniversary gifts. No matter how many years you're celebrating—whether it's your first or fiftieth—you're sure to find the perfect anniversary gift at our jewelry store in Boca Raton. From exceptionally brilliant diamond rings to iconic gemstone and pearl jewelry, each piece in our collection is handcrafted for a lifetime of value. Stop by Devon's Diamonds & Decor today!
---