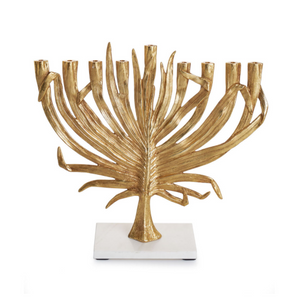 Judaica & Jewish Gifts
 Judaica means things pertaining to Jewish life and customs, especially when of a historical, literary, or artistic nature, as books or ritual objects. Judaica includes ornate ceremonial objects used in the synagogue, as well as decorative objects used in the home. These objects often tell the stories of Jewish traditions through their craftsmanship and decoration.
Where Do I Shop for Judaica and Jewish Gifts in Boca Raton?
Devon's Diamonds & Decor in Boca Raton, offers more than just jewelry. We carry a large selection of unique giftware and Judaica as well. Judaica is the term used for things pertaining to Jewish life and customs and we strive to carry only exclusive lines. Our Judaica items come from Israel, American Jewish artists and famous designers. The two main designers of Judaica that are displayed in our showroom are Gary Rosenthal and Michael Aram. Some of the many beautiful Jewish gifts and Judaica in Boca Raton that we carry are:
Mezuzahs  
A mezuzah comprises a piece of parchment called a klaf and is held in a decorative case and inscribed with specific Hebrew verses from the Torah. A mezuzah is affixed to the doorpost of Jewish homes to fulfill the mitzvah to "write the words of God on the gates and doorposts of your house". Shop for mezuzahs in Boca Raton at Devon's Diamonds & Decor.
Menorahs
The menorah is a nine-branched candleabrum that is lit during the eight-day holiday of Hanukkah. Each night of Hanukkah, a new branch of the menorah is lit. The ninth holder on the menorah, called the shamash ("helper"), is for a candle used to light all other candles. To be kosher, the shamash must be offset on a higher or lower spot than the main eight candles or oil lamps on the menorah. Shop for menorahs in Boca Raton at Devon's Diamonds & Decor.
Seder Plates 
A Seder plate is a special plate that contains symbolic foods eaten or displayed at the Passover Seder.   Each of the six items that are arranged on the plate has a significance to the retelling of the story of Passover—the exodus from Egypt —which is the focus of this ritual meal. The six traditional items on the Seder Plate are:
1. Zeroa (shankbone)
2. Beitza (roasted hard-boiled egg)
3. Maror / Chazeret (horseradish)
4. Maror / Chazeret (onion)
5. Charoset
6. Karpas (parsley)  
Many decorative Seder plates sold in Judaica stores have pre-formed spaces for placing these symbolic foods. Shop for unique seder plates in Boca Raton at Devon's Diamonds & Decor.
Shabbat Candle Holders
Shabbat candle holders are used for the candles that are lit on Friday evening before sunset to usher in the Jewish Sabbath. Lighting Shabbat candles is a rabbinically mandated law. The candle lighting is traditionally done by the woman of the household, but in the absence of a woman, it is done by a man. After lighting the Shabbat candles, the woman moves her hands over the candles and towards her (as if bringing in or guiding in the Sabbath); she then covers her eyes and recites a blessing. Shop for Shabbat candleholders in Boca Raton at Devon's Diamonds & Decor.
Apple & Honey Dishes
Rosh Hashanah which literally means the "head of the year", is the Jewish New
Year. Rosh Hashanah meals usually include apple dipped in honey to symbolize a sweet new year. Shop for
apple and honey dishes
in Boca Raton at Devon's Diamonds & Decor.
Kiddush Cups
A kiddush cup is used during ceremonies such as the Shabbat and other Jewish holidays. The word "kiddush" refers to a blessing or sanctification that is recited over the wine in the cup. This is a great gift to give the boy or girl in preparation for the future holidays and ceremonies when they will drink from their own personal cup. Shop for kiddush cups in Boca Raton at Devon's Diamonds & Decor.
Dreidels
At Devon's Diamonds & Decor, we have a large variety of unique dreidels in Boca Raton. From crystal dreidels to dreidels made out of brass, steel, copper, and fused glass, there are options for every style. These collector quality dreidels look great displayed throughout any home, making it them the perfect Hanukkah keepsake. 
Matzah Plates
Matzah plates are just as they sound, a plate that holds the matzah. Honor the matzah as one of the centerpieces of the Passover seder with a gorgeous new matzah plate for your host/hostess. Shop matzah plates in Boca Raton at Devon's Diamonds & Decor.
Matzah Covers
In order to keep the matzah fresh and protected, many families will have a special cover. You can't use the regular Challah cover – that's Chametz (foods with leavening agents that are forbidden on the Jewish holiday of Passover). Matzah covers provide a decorative touch and buying a beautiful new Matzah cover for your host is a great idea! Shop for matzah covers in Boca Raton at Devon's Diamonds & Decor. 
Jewish Jewelry
Jewish jewelry is yet another example indicating the increasing popularity and awareness of Judaism. It is a unique way both to adorn your body and take pride in your religion and its marvelous history. Shop for beautiful jewish jewelry in Boca Raton at Devon's Diamonds & Decor.
Star of David Pendant
The most popular symbol of Judaism is the Star of David. The Star of David has become a popular way to show your Jewish pride making it a great gift for any special occasion. Find Star of David pendants in Boca Raton at Devon's Diamonds & Decor.
Hamsa Pendant
A Hamsa pendant is a thoughtful and meaningful gift for your loved ones, reflecting the timeless tradition of the Hamsa symbol that represents protection and good fortune. Find Hamsa pendants in Boca Raton at Devon's Diamonds & Decor. 
Chai Pendant
A chai pendant is another great option for a gift. The chai symbol represents life and positivity, making this pendant an uplifting and meaningful symbol for your loved ones to wear and cherish for years to come. Find chai pendants in Boca Raton at Devon's Diamonds & Decor. 
Evil Eye Pendant
This trendy piece of jewelry is both chic and spiritual, making it a wonderful gift for anyone on your list. The evil eye symbol is believed to protect against negative energy, and the delicate design of the pendant ensures it can be worn every day. Find evil eye pendants in Boca Raton at Devon's Diamonds & Decor.
Hebrew Name Pendant
If you want to get an even more personalized pendant, you can get a pendant made with the recipients Hebrew name on it. At Devon's Diamonds & Decor, we specialize in custom jewelry design. Stop by our jewelry store in Boca Raton.
Challah Boards
The challah board is a familiar sight at Jewish holiday meals. It is designed to hold challah bread as well as symbolize God's commitment to support his chosen people. A challah board is as much a decorative item as it is functional. Find the perfect challah board in Boca Raton at Devon's Diamonds & Decor.
Challah Covers
A challah cover is a special cloth used to cover the loaves of challah at the beginning of the Rosh Hashanah meal. What is great about this gift is that it can be used for not only this holiday but for other major Jewish holidays and Shabbat as well. If you are looking for challah covers in Boca Raton, we carry a large variety of styles and materials.  
Bar/Bat Mitzvah Gifts
From picture frames to tzedakah boxes and yads and more - Devon's Diamonds & Decor has the perfect gift for every
bar mitzvah
and
bat mitzvah
in Boca Raton. We're here to help you find something that you feel good about and that the recipient will actually like. 
Tzedakah Boxes
The giving of Tzedakah (charity), is a fundamental Mitzvah in Jewish life. Devon's Diamonds & Decor carries many beautiful tzedakah boxes in Boca Raton, including many that make for great bar/bat mitzvah gifts. Want to personalize the tzedakah box to make it extra special? You can purchase an engraved plaque with a short message on it to mount on the back.  
Jewish Sculptures
Artist Gary Rosenthal makes beautiful sculptures that are perfect as awards and
commemorations of significant accomplishments such as a Bar or Bat Mitzvah. They are display worthy and easily personalized with an engraved plaque. Find Jewish sculptures in Boca Raton at Devon's Diamonds & Decor.
Yads
A yad is a Jewish ritual pointer, popularly known as a Torah pointer. As the boy or girl reads the Torah, they will often use a Torah pointer to keep track of their place during a public reading. Gary Rosenthal makes beautiful yads that are perfect for Bar/Bat Mitzvahs. Shop for yads in Boca Raton at Devon's Diamonds & Decor.
Gifts for a Jewish Wedding
Some of the most sought after and admired Judaica items in our showroom are the gifts for a Jewish wedding. Each piece from this collection by Gary Rosenthal has a tube to hold the broken glass from the wedding ceremony. (We even sell this colorful glass.) It is a perfect way for the couple to preserve and display the memories for years to come. Shop for Jewish wedding gifts in Boca Raton at Devon's Diamonds & Decor.
Jewish Wedding Breaking Glass
The shards from your broken wedding glass make a wonderful keepsake for years to come. These colored glasses look great as part of any of our wedding shards
sculptures. To prevent injury, and to ensure the broken glass stays together, the colored breaking glass comes in a velvet pouch. Find
colored breaking glass
in Boca Raton in our showroom.
Jewish Wedding Picture Frame
This elegant wedding frame by artist Gary Rosenthal has space for two 5×7 photos, or a photo from the wedding and a copy of the invitation, as well as a tube for the shards right in the middle. Purchase this beautiful
5x7 Double Wedding Frame
in-store or online.
Jewish Wedding LOVE Sculpture
This
Love sculpture
by artist Gary Rosenthal is a wonderful way to display the shards from your wedding. This laser-cut steel sculpture spells out LOVE with a heart and shards tube. A perfect way to display your wedding glass!
TWO OF THE BIGGEST NAMES IN CONTEMPORARY JEWISH ART...

Gary Rosenthal has been sculpting in welded metals since the early 1970's. Together with a team of talented craftspeople he creates one of the most popular and unique lines of Judaica art in the country. Combining copper, brass, and steel with brilliant fused glass, the Gary Rosenthal Collection has a contemporary style rooted in tradition. His inspiration comes from the rich history of the Jewish people which tells us it's a blessing – a mitzvah – to make beautiful, functional, art. 
Work from the collection has been presented to Presidents from Carter, to Clinton, to Obama and celebrities as varied as Bette Midler, John Travolta and Ben Stein. It has been seen worldwide in many fine galleries, private collections, and museum shops including Smithsonian's Renwick Gallery, Corning Museum of Glass, American Craft Museum, B'nai B'rith Museum, The Jewish Museum, Skirball Museum of Culture, and the John F. Kennedy Center for Performing Arts. 
Michael Aram is an award-winning American artist who has dedicated his career to craft-based design. Inspired by a trip to India at age 25, he established a second home and studio there, where he continues to draw creative inspiration today. Trained as a painter, sculptor, and art historian, Michael has neatly applied his diverse background to the decorative arts. Lyrical and often witty, his work encompasses a wide range of media and reveals a rich and variant source of inspiration – nature, mythology, narrative storytelling, and purified form. Michael's work is also a celebration of craft and age-old hand working traditions. It is the enduring fusion of these ideals – originality, narrative, and craftsmanship – that has become the hallmark of this gifted artist. 
Michael Aram Judaica comes from Michael's fascination with objects of ritual. Regardless of the faith with which they are connected, they are imbued with a profound energy and meaning that holds a very special place for him. Whether it is a unique object or derived from a motif with a broad collection, each piece is created with a particular sense of reverence and care in both the function and the design.
JUDAICA STORE NEAR ME
 At Devon's, customers can find unique and impressive pieces, such as mezuzahs, menorahs, and other Judaica items, perfect for gifting or decorating their homes. With high-quality products and exceptional service, Devon's Diamonds & Decor is a go-to destination for anyone looking for top-notch Judaica gifts. Visit our showroom to browse our beautiful selection of Judaica gifts and jewelry. Located at 502 Via de Palmas, in the Royal Palm Place shopping center in the heart of downtown Boca Raton. (Or shop online)  
---