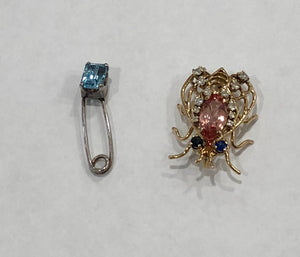 What to Know About Redesigning Jewelry
JEWELRY REDESIGN
Do you have jewelry that you don't want to part with, but aren't sure how to use? At Devon's Diamonds & Decor, we believe that all jewelry is meant to be worn. Whether an inherited brooch from grandma or a ring that was purchased 20 years ago, so many people have those pieces of jewelry that are just sitting in their safe, jewelry box or hidden away in the back of their drawer. Although these items may be highly valuable or may even hold sentimental value, they are often out of style. At Devon's, our repurposed jewelry service lets you turn your old jewelry into a beautiful new creation that you will love to wear. It's an exciting way to honor the past and a great way to add new jewelry pieces to your collection (while also saving money by not buying new jewelry). 
Jewelry Redesign Ideas
There are countless reasons why someone may decide to repurpose their old jewelry into something new... 
Repurpose family heirlooms that have been passed down and create an engagement ring or wedding band for the next generation. 
Celebrate an anniversary by redesigning your wedding band to suit your current taste and lifestyle.


Transform an orphaned earring, old charm or pin with no specific purpose, into a unique necklace.
Repurpose your wedding set from a previous marriage. 
Recycle your worn out, broken or unwanted gold jewelry and trade it in towards your new project.
Turn a pendant that is out of style into a ring or bracelet, or vice versa.
Create a new ring or pair of earrings by taking the stones from one piece of jewelry and put them into a new setting.
Take grandma's old brooches and turn them into something new and in style like this beautiful bypass ring..
JEWELRY REPURPOSING
The most important thing to remember about repurposing jewelry is that you are giving pieces of value a new life and a new meaning for generations to come. If repurposing your jewelry is something that you are interested in, take out all the pieces from your jewelry box and go through them, one by one. The pieces you love will go right back in your jewelry box. Take out that broken bracelet that has been sitting there, the earrings that are too heavy and those rings that are too small. Put aside the pieces that are just simply not your style anymore. You can get inspired with design ideas by looking at pictures of jewelry online. If you find things that inspire you, take pictures of the items you like. This will help with the design process, or just start from scratch. And now the fun begins!
THE JEWELRY DESIGN PROCESS
In these three simple steps, your jewelry vision will become a reality:
Bring in your forgotten, neglected or out dated jewelry to Devon's Diamonds & Decor in Boca Raton, FL.  We will first take a look at your pieces and inspect them further to make sure your jewelry can withstand being reset. Our team will work closely with you in the design process to come up with a one-of-a-kind piece that fits in your budget. Together, we will brainstorm with you and provide ideas on how you can reuse old jewelry to create a new piece. Designs will be sketched to help construct the new jewelry of your dreams. 

Once the design is chosen, it will get turned into a 3D computer rendering, otherwise known as Computer-Aided Design (CAD). This detailed computer model allows you to view your new custom design and get an idea of what your piece will truly look like finished. Any desired changes can be made before approval to eliminate the possibility of mistakes. Once you are

 certain that we will create exactly what you have in mind and approve of the jewelry design, it will go

 into production.
Out with the old and in with the new! After diamond setting, polishing, and quality control checks are completed your transformed piece of jewelry will be ready to make new memories. 
JEWELRY REDESIGN NEAR ME
Contact us at (561)430-6988 or visit our Boca Raton location, and we'll turn your old jewelry into timeless pieces.
---