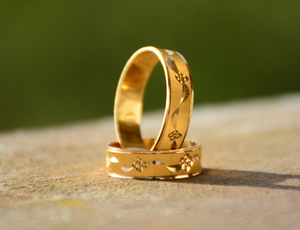 Custom Jewelry Engraving
Engraving is the action of marring the surface of an object in order to create a design on the object. Engraving is permanent and can be highly detailed and precise. Jewelry engraving involves making design prints or impressions on jewelry using several techniques including cutting, acid corrosion or with different tools.
Engraving processes have become extremely advanced so that most jewelers can easily engrave very complicated, custom designs onto their jewelry and can feel confident that their engraving will look exactly the way that they want it to. At Devon's Diamonds & Decor, our jewelry and gift items can be personalized with custom engraving to fit many styles. 
HISTORY OF ENGRAVING
The practice of making jewelry is as old as the first recorded presence of humans on the planet and the engraving of these items can be dated all the way back to prehistoric times. The first documented examples of engraving were basic scratching and designs put on decorative rocks and stones. Engraving on metal was first really becoming popular in the early to mid-15th century and soon became a popular way to leave messages, add meaning, and designate certain items as belonging to a particular individual. This was the start of what we call traditional engraving, and for centuries it was relegated to just a handful of metals that were easy work with- mostly gold, silver, copper, and platinum. 

As with all art forms, engraving has gone through its own innovations and evolutions. With the rise of new technology and the development of high powered laser engraving, harder materials can now easily be engraved and a much finer detail can be achieved as well. Now we can enjoy the benefits of using laser engraving on many items such as rings, pendants, bracelets, earrings, and watches to just name a few.
TYPES OF ENGRAVING
Jewelry such as bracelets, watches, rings, and pendants can be engraved. T
he two types of engraving that we do at our Boca Raton jewelry store are Hand Engraving and Laser Engraving.
HAND ENGRAVING 
  Hand engraving of jewelry is a very skilled technique used to carve precious metal, creating lettering or intricate designs of decorative jewelry art. Hand engraving is an age old art form in which pieces of art are created using only a small steel graver. Gravers come in many different shapes for many different uses, the main tool being a square graver. The graver is pushed by the palm of the hand to cut through the metal and no machinery is used.  By sharpening and controlling the gravers correctly you can create complex designs which take many hours to complete.
Engraving done by hand is a true art form. Since this work is performed by a skilled artisan, the result won't be as exact or uniform as a laser engraving.
The appeal of hand-engraving comes from its old-world charm and one-of-a-kind character. But all of this charm comes at a cost… both in time and cash.
LASER ENGRAVING
Laser engraving uses (you guessed it) a laser. A highly-focused laser beam creates heat during the engraving process and vaporizes the material it touches – leaving you with your custom message. It's extremely fast and offers a greater selection of fonts, symbols, and style. This technique can be used on metal, stone, leather, and wood and offers precision and clear readability. To form deeper marks, the process can be repeated.
At Devon's Diamonds & Decor, we use laser engraving because it's great for items worn a lot. Unlike hand engraving, no actual tool comes in contact with the surface. This means there is less chance of product damage or deformation.
REASONS WHY ENGRAVED JEWELRY MAKES THE PERFECT GIFT 
TELLS A STORY
Most of us remember who gifted our jewelry and the reason they did. And, it makes it special. Different. 
Why? It tells a story. When you craft personalized jewelry as a gift, you're not just inscribing text and symbols on some metal. You are telling your boo, mom, or bff how much they mean to you and memorializing a connection you have with them.
MAKES IT UNIQUE
We live in a world of mass production and fast fashion. And, while it can definitely benefit society to some extent, sometimes we kind of overdo it.
That's why gifting personalized jewelry will set you apart. Your loved one will squeal with excitement when they open their present to find such a thoughtful piece.
LETS YOU BE CREATIVE 
It's the perfect gift where you can express yourself and shape the meaning of the ring, necklace, watch or bracelet.
WHO SHOULD I ENGRAVE JEWELRY FOR?
One of the best ways to personalize a heartfelt gift is by getting it engraved. Customized jewelry and accessories are the ultimate way to show that special someone you care. But before you decide on the exact phrase you want engraved on a keepsake, make sure that you review all of your options so you get it right the first time. 
Whether your intention is to commemorate an anniversary, a family member's birthday, or one of your children's graduations, remember that engravings are permanent. Choose your gift and message wisely before making the commitment.

Engraving Ideas for Husbands & Wives
 Anniversaries or special occasions, like Valentine's Day or Christmas, make an ideal time to gift your significant other an engraved piece of jewelry. One popular engraving idea is to put the latitude and longitude of where you and your spouse first met, along with the time and date. You can always include a quote that focuses on intimacy, love, and togetherness. 
Engraving Ideas for Fiancees 
Add a personal touch when you propose with a beautiful engraved engagement ring. Or when purchasing wedding bands, a great idea is to get them both engraved on the inside. The most popular thing to get engraved on a wedding band is your partner's initials, his/her name or both of your names and/or your wedding date. It's a good way to add a symbolic touch, and you know you'll love it forever.
Engraving Ideas for Parents
These gifts can get especially sentimental. Your parents are arguably the most influential people in your life. What better way to say you care than with a customized piece of jewelry or engraved accessory. Focus on fond memories, milestones, gratitude, and thanks. You can go with the traditional set of cufflinks or a wristwatch for dad and an engraved pendant or bracelet for mom.
Engraving Ideas for Your Daughter or Son
Celebrating the accomplishments of your son or daughter is always a gift in and of itself. Engraving jewelry to commemorate a recent milestone, like a graduation or the welcoming of a new baby into the world, is such a special gift to give.
Engraving Ideas for Grandparents
Grandparents are there to provide infinite wisdom and guidance, as they have likely been in your shoes once before. This is a perfect time to gift them a thoughtful accessory or piece of jewelry that will pull at their heartstrings. 
 Engraving Ideas for Friends
While you may choose more formal and traditional quotes for your husband or wife, mother or father, when you're engraving a piece of jewelry for your best friend, you can be as silly as you want to be. We've all seen the necklaces or nameplates that say 'best friends forever', but you may want to use this opportunity to bring humor to the forefront.
JEWELRY ENGRAVING IN BOCA RATON
For those looking to get wedding rings engraved, create a special necklace for a special someone, or commemorate some big moment in life with a personalized piece of jewelry or object, visit our jewelry store in Boca Raton. At Devon's Diamonds & Decor, we are proud to offer engraving for all your jewelry personalization and customization needs.
---