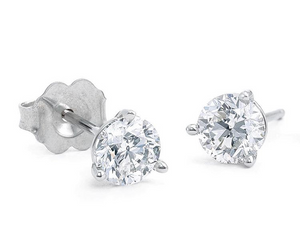 A Guide to Buying Diamond Studs
Diamond stud earrings have been an essential jewelry staple for decades. Today, diamond stud earrings can be seen on both men and women to offer a simple yet striking addition to any outfit and are suitable for a wide variety of occasions. They are a versatile and elegant choice, which is why you will see them being worn during the day at the office or a fancy evening out on the town.
HOW TO CHOOSE THE BEST DIAMOND STUD EARRINGS FOR YOU
While you may think that choosing the perfect pair of diamond stud earrings is a simple trip to your local jeweler, there are many factors to consider. The size of the diamond, the diamond setting, the backing, and the type of metal all come into play when you're shopping for a pair of diamond earrings. Whether you're trying to select the perfect set of diamond earrings for you or for a loved one, here are some options you may want to consider before making your purchase. 
CONSIDER THE DIAMOND STUD SETTING
Besides the shape, size, metal color and type, one of the most important factors when choosing diamond studs is the diamond setting. The most common earring settings are made with either bezels, prongs, or halos:
Bezel-Set Diamond Stud Earrings
The bezel setting holds the diamond with a band of metal that surrounds the stone, fully or partially, giving it a more modern look. Bezel settings are not only stylish but they are also incredibly secure because the diamond is totally enclosed in the setting.
Prong-Set Diamond Stud Earrings
The prong setting holds the diamond with 3 prongs or more (3 and 4 prongs are popular for diamond earrings). The prongs surround your diamond, cradling them in place, while the sides and top of the diamond is visible. A prong setting with 3 prongs is referred to as a Martini Style and prong setting with 4 prongs is referred to as a Basket Style.
Martini-Style Diamond Stud Earrings
The martini-style setting is a three-prong setting that has a V-shape resembling a martini glass when looked at from the side. This style lets the most light into the diamond and provides the most visibility.  
Basket-Style Diamond Stud Earrings
The basket-style setting is a four-prong setting that grasps the outer edges of the diamond and gently bends over the top of the crown holding the diamond down. This is the most popular setting.
Halo Diamond Stud Earrings

The halo setting is an incredibly glamorous look. In a halo setting, your center diamonds are surrounded by a ring, or "halo" of smaller diamonds. This makes your center diamond appear larger.
Another fantastic option for a more glamorous look for your diamond stud earrings is an earring jacket...
Diamond Earring Jackets
An earring jacket is a piece of jewelry that wraps around other jewelry. All you do is push the earring post through the hole and you have a whole new earring. The beauty of an earring jacket is its versatility and how it provides a cost effective and easy way to spice up the look of traditional diamond studs.
CONSIDER THE DIAMOND SHAPE THAT SUITS YOU
Like diamond rings, diamond earrings are available in any number of shapes, also known as cuts, with round and princess cut being the most popular. When choosing a diamond shape for your earrings, be sure to keep in mind that studs may turn in your ears as you wear them, so it's a good idea to choose a shape that looks good sideways and upside down as well as right side up.
CONSIDER DIAMOND STUD QUALITY
When choosing the color, clarity and cut on your earrings you do not need to be as strict as you were with your engagement ring. This is because earrings are viewed at a distance, so flaws are nearly impossible to see. Quality is still important, because you'll want the earrings to sparkle and shine. 
CONSIDER DIAMOND STUD METAL TYPES
When choosing a setting for your diamond studs, you'll also want to consider which metal type and color is preferred. Stud earring settings are usually crafted from one of four precious metals: white gold, yellow gold, rose gold, and platinum. White gold is the most popular option as it's a classic look that blends well with the diamond. If you are sensitive to metals, platinum is a good choice – it's hypoallergenic and unlikely to cause an allergic reaction no matter how long you wear it. While white gold and platinum are similar in style, they differ in durability, weight, and price, with platinum being more durable, heavier, and more expensive than gold.
CONSIDER THE BEST DIAMOND EARRING BACK FOR YOU
 At Devon's Diamonds & Decor, we offer two different kinds of earring backs - a push back (also called a friction back), or screw back (also called a threaded post). All of our earrings come standard with a push back unless otherwise noted.
Push Back - These backs are the most common type of earring back used, and easily push on and pull off. They have a small notch at the end of the post to prevent them from sliding off while you are wearing the earrings. This type of back is quite secure, but you may want to consider replacing them if you notice them sliding on or off too easily.
Screw Back - For earrings of high value, a screw back is often recommended. They are difficult to put on and remove, which makes them one of the most secure types of backs. If you notice them screwing on and off easily or any looseness, you may want to consider replacing them for the security of the earring.
 Diamond Studs Near Me
Whether you're treating yourself or purchasing for someone you love, a pair of diamond stud earrings in Boca Raton will never go out of style! Our jewelry store is located in the Royal Palm Place shopping center in the heart of Boca Raton, FL.
---