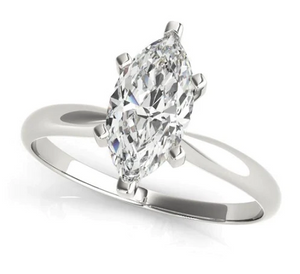 Marquise Cut Diamonds 101
WHAT IS A MARQUISE CUT DIAMOND?
The marquise cut diamond is a type of modified brilliant cut that features and elongated shape that many say resembles an "eye" or "football" shape. With its distinctive oval shape, the marquise diamond has smooth curves and pointed ends. The marquise has one of the highest size-per-carat-weight ratios of any diamond shape, which means that your diamond will appear larger. Its flattering design elongates the finger, while its facets produce beautiful sparkle.
WHAT IS THE ORIGIN AND HISTORY OF MARQUISE CUT DIAMONDS?
The word "marquise" is derived from French, and refers to the wife of a marquis (nobleman) – also called a marchioness. A marquise (marchioness) can also be a woman who has a high social ranking in her own right – a noblewoman. 
The marquise cut diamond was first created in the 1700s for King Louis XV of France. King Louis XV paid the jeweler that he hired to create a uniquely shaped diamond, comparable to the smile of his beloved mistress named Marquise of Pompadour. The elongated shape of the diamond was designed to maximize its carat weight, making it appear larger than a round or square cut diamond. The marquise cut grew in popularity during the 20th century and is now a popular choice for engagement rings and other jewelry.
WHAT TO CONSIDER WHEN BUYING A MARQUISE CUT DIAMOND
Considering Length to Width Ratio
Choosing a marquise diamond can be difficult, especially if you are unfamiliar with gemstones. A marquise cut stone could be very narrow, or slightly wider; elongated, or broader. With regards to the ratio between length and width, it comes down to personal preference, although the "classic" shape is considered to be the length to width ratio of between 1.75 and 2.15.
Considering the "Bow-Tie Effect"
Also, another thing to look out for is the "bow-tie effect". The diamond "bow-tie effect" refers to a dark horizontal section on the surface of a diamond that looks similar to a man's bow tie. There are many degrees of a bow tie, with some being faint and others appearing very intense.This is often found in marquise cut diamonds due to a polisher placing the facets incorrectly and the light not reflecting in the proper way. 
Considering Diamond Quality
Turn to the 4C's of diamond quality when shopping for a marquise cut diamond.
MARQUISE CUT DIAMOND & THE 4C'S
Marquise Cut Diamond: Cut
Finding a well-cut marquise cut diamond can be difficult. Since gemological laboratories don't assign cut quality grades for
 fancy-shaped diamonds 
like marquises, you'll have to carefully examine the sparkle and shape to find a well-cut stone.

Marquise Cut Diamond: Clarity
Clarity in marquise cut diamonds is dependent on personal preference. In terms of clarity, avoid a diamond that has visible inclusions in the center of the stone. By selecting a diamond that has inclusions on the pointed ends, they may be covered by the prongs when the diamond is placed in a diamond setting. A higher clarity grade becomes increasingly important as one is opting for a larger carat size. When choosing a ring setting, ensure that the marquise diamond is always set in a way where the points are protected to prevent them from chipping or cracking. 
GIA ranks diamond clarity on the following scale:
IF

 

– Internally Flawless
VVS1 – Very Very Small Inclusions
VVS2 – Very Very Small Inclusions
VS1 – Very Small Inclusions
VS2 – Very Small Inclusions
SI1 – Small Inclusions
SI2 – Small Inclusions
I1 – Inclusions
I2 – Inclusions 
Marquise Cut Diamond: Color
Evaluating color in marquise cut diamonds is entirely dependent on the preference of its buyer or wearer. Like other fancy shapes, a marquise-cut diamond will reveal color more easily than a round diamond. Color usually shows most near the tips. If you're pairing a marquise diamond with white gold or platinum, stick to a color grade of G or better. A G color diamond will appear white and cost less than a higher color grade. If you're looking to save some money and are opting for a yellow or rose gold ring setting, a marquise diamond will still look colorless all the way down to I color. Since the metal will reflect some of its color in the diamond anyway, the slight warmth in an I color diamond will still look white against colored metal.


Marquise Cut Diamond: Carat Weight
Marquise cut diamonds will vary widely in terms of their final cut proportions and resulting carat weights. Because marquise cut diamonds are cut to the ideal proportions and length width ratio for the quality of the stone being cut, each pear shape won't necessarily have linear changes in carat size and dimensions.
BEST MARQUISE CUT DIAMOND RING SETTINGS
SOLITAIRE SETTING FOR MARQUISE CUT DIAMOND
Marquise cut diamonds exude elegance, charm, and an unconventional style that make them perfect for a variety of settings. Therefore, a classic look for any marquise cut diamond is a solitaire setting.
HALO W/ SINGLE ROW SETTING FOR MARQUISE CUT DIAMOND
A single row setting is a favorite for marquise cut diamonds for a very good reason. The elongated shape and pointed ends of the marquise cut can often make the diamond appear quite narrow on the finger. Side stones alleviate that appearance and help to enhance the beautiful symmetrical shape of the cut.
HALO W/ SPLIT SHANK SETTING FOR MARQUISE CUT DIAMOND
A split shank engagement ring simply means that the metal on the band splits before it meets the center stone, often leaving a stylish gap that allows skin to show through the ring. The split shank creates visual interest and can often make the ring appear wider and more substantial. Sometimes, the look is more luxurious when more gold is being used. 
MARQUISE CUT DIAMOND JEWELRY
Besides engagement rings, marquise cut diamonds look great in other types of fine jewelry as well. You can go for a pair of marquise cut diamond stud earrings or you can even opt for a trendy diamond chevron band (like the one pictured below). No matter what you choose, marquise cut diamonds are an excellent way to feature your unique style! Stop by Devon's Diamonds & Decor in Boca Raton to talk to us about custom designing a beautiful piece of marquise cut diamond jewelry. 
Curious about what other diamond shapes there are?
Check out our Diamond Shapes 101 blog post!
---