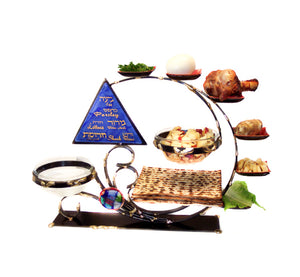 Passover Gift Ideas
Passover is a major Jewish Holiday and one of the most widely celebrated Jewish holidays. It celebrates the emancipation of the Jewish people from slavery in Egypt. The name refers to the belief that God set 10 plagues upon Egypt, culminating in one that killed the firstborn child of every family. However, the plague "passed over" Israelite houses, leaving them untouched. When the Pharaoh found his own child dead, he chased the Israelites out of the country and freed them from slavery in the process.
What Happens at a Traditional Passover Seder?
It is traditional for Jewish families to gather on the first night of Passover for a special dinner called a seder. The main dish that is used on Passover is called a seder plate. The Passover Seder plate is a special plate containing symbolic foods eaten or displayed at the Passover Seder. Each of the six items arranged on the plate has special significance to the retelling of the story of Passover.
The six traditional items on the Seder Plate are as follows:
1.
Zeroa
 (shankbone)
2.
Beitza
 (roasted hard-boiled egg)
3.
Maror 
/ 
Chazeret
 (horseradish)
4.
Maror 
/ Chazeret 
(onion)
5.
Charoset
6.
Karpas
 (parsley)
For those who are lucky enough to be spending Passover with family or friends, it's always nice to bring a special host/hostess gift. If you're not sure what to bring, here are some ideas to point you in the right direction:

WINE REST
On top of being a good gift for any occasion, wine is a traditional part of the seder meal. Bring your host a bottle of kosher-for-Passover wine and pair it with a beautiful Michael Aram wine rest. Seders call for each adult to drink four cups of kosher wine throughout the meal. By displaying the bottle of wine in a Michael Aram wine rest will not only give it a classy touch but it will be something that your host can use all year long. Shop for
wine rests by Michael Aram
 in Boca Raton at Devon's Diamonds & Decor.

WINE STOPPER
If you want to get your host/hostess something a little smaller that goes with the bottle of kosher wine, you can always opt for a gorgeous wine stopper by Michael Aram. Shop for wine stoppers in Boca Raton at Devon's Diamonds & Decor. 

KIDDUSH CUP
Shabbat and Jewish holiday meals begin with a blessing over a cup of wine. Many families have a special glass or goblet specifically for the purpose, often an heirloom that has been passed down through the generations, but any cup can
function as a kiddush. With this cup, the Passover seder begins. 
If the host/hostess is engaged, a great gift would be a kiddush cup from artist Gary Rosenthal's wedding collection. This beautiful kiddush cup features a lasercut LOVE with distinctive brass vines that entwine a vial that holds your precious wedding shards for years to come. This is the perfect kiddush cup to use in your wedding ceremony and for all of the Jewish holidays. Shop for 
kiddush cups
 in Boca Raton at Devon's Diamonds & Decor.
COASTER SET
With all the kosher wine being passed around, a great way to help protect the surface of your host's table is to gift them with a coaster set. Add unique design
and style to your host's home with a gorgeous coaster set from Michael Aram. A gift that can be used continuously. Shop for Michael Aram coaster sets in Boca Raton at Devon's Diamonds & Decor. 

VASE
Flowers are a classic gift for a reason: They brighten up the place, and they're a lovely reminder that spring is in full swing. If you really want to be helpful, show up with the flowers already arranged in a vase, so your host won't have to scramble to find a container. Michael Aram makes such beautiful, unique vases that will be certainly be a showstopper and yet another gift that can be used year round. Shop for Michael Aram vases in Boca Raton at Devon's Diamonds & Decor. 

SEDER PLATE 
A traditional seder plate is filled with a few simple yet symbolic foods. If you're looking for a gift that will keep on giving, consider a unique, handmade seder plate by artist Gary Rosenthal. After all, it's something your hosts will re-use year after year, and think of you each time they fill it up! Shop for seder plates in Boca Raton at Devon's Diamonds & Decor.  

CANDLE
The candles that Michael Aram makes are absolutely stunning and are a great gift for any occasion. The Anemone candle in particular is not only beautiful but it has both silver and gold tones on it, which will match with anyone's home decor. This
collection is inspired by anemone flowers, which in some cultures are said to bring good luck and offer protection. The flowers are associated with purity and peace, so this candle is a perfect gift to give your Passover host/hostess. Shop for
Michael Aram candles
in Boca Raton at Devon's Diamonds & Decor. 
MATZAH COVER AND/OR MATZAH PLATE
Every year at Passover, a highlight of the season is the traditional unleavened bread, or matzah, that is usually served at meals. Flat and crisp, it symbolizes the dough that Israelite women had to grab before it had time to rise, as they and their families escaped in the night from Egypt.
At the traditional Seder dinner that marks the start of Passover, matzah plays a special role and the two main things used with the matzah are matzah covers and matzah plates.

MATZAH COVER
In order t
o keep the matzah fresh and protected, many families will have a special cover. 
You can't use the regular Challah cover – that's Chametz (
foods with leavening agents that are forbidden on the Jewish holiday of Passover). Matzah covers provide a decorative touch and buying a beautiful new 
Matzah cover for your host is a great idea! Shop for matzah covers in Boca Raton at Devon's Diamonds & Decor. 

MATZAH PLATE
Matzah plates are just as they sound, a plate that holds the matzah. Honor the matzah as one of the centerpieces of the Passover seder with a gorgeous new
matzah plate for your host/hostess. Shop
matzah plates
in Boca Raton at Devon's Diamonds & Decor.  

COCKTAIL NAPKIN HOLDER
Cocktail napkin holders are the perfect Seder table decoration for your host and can be used throughout the year. They are a stylish way to keep napkins neatly
presented with all the food and wine being served. Shop for
Michael Aram cocktail napkin holders
in Boca Raton at Devon's Diamonds & Decor.   
KIDDUSH FOUNTAIN
Once the wine has been blessed, the Kosher wine gets poured into the large Kiddush cup at the top and the wine cascades through the fountain and fills the smaller cups below. Each participant at the blessing gets a cup to sample the
sanctified wine. Another great gift to be used year round, for Shabbat and other Jewish holidays. Shop for Kiddush fountains in Boca Raton at Devon's Diamonds & Decor. 

NUT BOWL
Bring your host/hostess nuts or dried fruits in a beautiful Michael Aram nut bowl. This way, as the holiday rolls along and your hosts need something to snack on,
they've got a holiday-approved nosh. By having the nuts or dried fruits in a bowl, adds a really nice touch to the gift. Shop for this
Michael Aram Molten Nut Bowl
at Devon's Diamonds & Decor. 
Looking for Passover Gifts in Boca Raton ?
 While it is not obligatory to bring a gift for Passover, it is definitely a thoughtful gesture that will certainly be appreciated. Whether you are looking for a Passover gift in Boca Raton or you simply want to upgrade the style of your existing Passover items, Devon's Diamonds & Decor has got you covered. We carry a unique selection of Judaica gifts for every holiday and occasion. Passover is just around the corner! Get your host/hostess for Seder the best Passover gifts in Boca Raton at Devon's Diamonds & Decor.
---