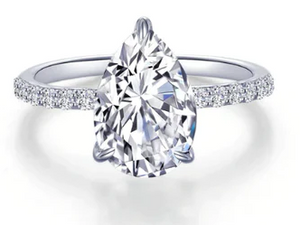 Pear Shaped Diamonds 101
WHAT IS A PEAR SHAPED DIAMOND?
The pear shaped diamond is considered a "fancy shape," meaning it's a shape other than round. Reminiscent of a tear drop, this diamond has a gently rounded bottom and a narrow, pointed top. The pear shaped diamond is a mixture between a beautiful round brilliant cut diamond on the lower half and a pointed marquise cut diamond on the top half. The combination creates a shape that is sought after for its uniqueness. 
WHAT IS THE ORIGIN AND HISTORY OF PEAR SHAPED DIAMONDS?
The pear shaped diamond was originally created by Lodewyk van Berquem of Belgium in the early 1400's. In addition to creating the pear shape, van Berquem was also responsible for the placement of facets in modern diamond cuts, as well as the use of symmetry in diamond cutting. Unfortunately, when the stone was introduced it was not popular. The cutting process causes a great deal of the rough diamond to be lost when creating the pear shape, which made it less desirable for diamond cutters at the time.
Since its inception over 500 years ago, cutters have labored hard to determine the ideal ratio of length to width for pear shaped diamonds to optimize their sparkle factor. The number of facets however, have remained the same since their beginning. Van Bercken established his pear cut diamond with 58 facets and it hasn't veered from that standard all these centuries later.
WHAT TO CONSIDER WHEN BUYING A PEAR SHAPED DIAMOND
CONSIDERING PROTECTION OF THE POINT
The pointed tip of a pear diamond is vulnerable. It can easily catch, which could cause the stone to loosen from the setting and leave it susceptible to damage or loss. This area can be protected by placing a V-prong on the point or choosing a bezel setting around the entire stone. Keep this in mind when shopping for a pear shaped engagement ring setting. 
CONSIDERING "BOWTIE EFFECT"
Like oval-cut or marquise-cut diamonds, many pear shaped diamonds show a dark pattern that resembles a bow-tie. This pattern typically runs across the width of the stone from the center of the table. Since it's an effect of the cut pattern, this is present in all pear cuts. The bow-tie on a well-cut pear shaped diamond should be minimal, but there will still be good contrast between light and dark areas in the stone.
CONSIDERING SYMMETRY
Symmetry is key to the overall beauty of gemstones, but it's even more important in some fancy-shape diamonds like oval diamonds, marquise diamonds, heart shaped diamonds and pear shapes. To see if a pear shaped diamond is symmetrical, draw an imaginary line down the length of the gem and examine the two halves. The more closely they mirror each other, the better the symmetry is.
CONSIDERING DIAMOND QUALITY
Turn to the 4C's of diamond quality when shopping for a pear shaped diamond.
PEAR SHAPED DIAMOND & THE 4C'S
Finding a well-cut pear-shaped diamond can be difficult. Since gemological laboratories don't assign cut quality grades for
 fancy-shaped diamonds 
like pears, you'll have to carefully examine the sparkle and shape to find a well-cut stone.
Pear Shaped Diamond: Color
Evaluating color in pear shaped diamonds is entirely dependent on the preference of its buyer or wearer. Diamonds in the colorless range (D-F) carry a premium due to the fact that they are incredibly rare, but the truth is, the difference between the colorless and near colorless (G-H) grade ranges is difficult to perceive, especially to the naked eye.
Pear Shaped Diamond: Clarity
When it comes to choosing diamond clarity, the choice is yours. Some may be happy with a diamond that features clarity characteristics that aren't visible to the naked eye, while others desire absolute perfection with a technically flawless clarity grade.
GIA ranks diamond clarity on the following scale:
IF

 

– Internally Flawless
VVS1 – Very Very Small Inclusions
VVS2 – Very Very Small Inclusions
VS1 – Very Small Inclusions
VS2 – Very Small Inclusions
SI1 – Small Inclusions
SI2 – Small Inclusions
I1 – Inclusions
I2 – Inclusions 
Pear Shaped Diamond: Carat Weight
Pear shaped diamonds will vary widely in terms of their final cut proportions and resulting carat weights. Because pear shaped diamonds are cut to the ideal proportions and length width ratio for the quality of the stone being cut, each pear shape won't necessarily have linear changes in carat size and dimensions.
BEST PEAR SHAPED DIAMOND RING SETTINGS
Pear shaped diamond engagement rings are a stunning and unique choice for couples looking for a non-traditional ring. The elongated shape creates a flattering look on the finger and adds a touch of elegance. Pear shaped diamonds are known for their brilliance and fire due to the way they reflect light. They can be set in a variety of settings, including solitaire, halo, or two stone, and can be customized with various metals and accent stones. Pear shaped diamond engagement rings are a timeless and exquisite choice for those looking for something special.
 SOLITAIRE SETTING FOR PEAR SHAPED DIAMOND
A beautiful way to showcase the stone is with a solitaire prong setting. The pear diamond will truly shine when there is little else to distract from its appearance. You still have choices, though. Choose from three, four, or six prong styles. 
SINGLE ROW SETTING FOR PEAR SHAPED DIAMOND
Looking for an extra hint of sparkle? Single row engagement rings feature accent diamonds or gemstones for some added pop along your ring's band. The accent diamonds will be sure to accentuate that beautiful pear shaped center diamond.
HALO SETTING FOR PEAR SHAPED DIAMOND
Take a solitaire setting up one sparkly notch by adding a diamond halo to your pear-shaped center stone. The tiny diamond halo adds a ring of sparkle around the pear, enhancing the brilliance of the stone. Another major benefit of the halo setting is that it offers very good protection for your center stone, keeping its edges safe from rough wear. What's more, you can cut down on the size of your center diamond as the halo tends to make the diamond appear larger than it is.
TWO STONE SETTING FOR PEAR SHAPED DIAMOND

One of the most recent pear shaped diamond ring settings to gain popularity is a two-stone style, where the pear-shaped stone is set alongside another diamond shape such as round, heart, oval, or marquise. This setting style is referred to as "toi et moi", which means "you and me" in French. As you may be able to imagine, this unique side-by-side setting is incredibly eye-catching and suitable for anyone who thinks two diamonds are better than one. When opting for this setting, ensure the diamonds are similar in size and color for a balanced appearance.

PEAR SHAPED DIAMOND JEWELRY
Besides engagement rings, pear shaped diamonds look great in other types of fine jewelry as well. You can go for a pair of pear shaped diamond stud earrings or you can even opt for a simple solitaire pear shaped diamond pendant with a halo of round diamonds around it. No matter what you choose, pear shaped diamonds are an excellent way to feature your unique style! Stop by Devon's Diamonds & Decor in Boca Raton to talk to us about custom designing a beautiful piece of pear shaped diamond jewelry. 
Curious about what other diamond shapes there are?
Check out our Diamond Shapes 101 blog post!
---