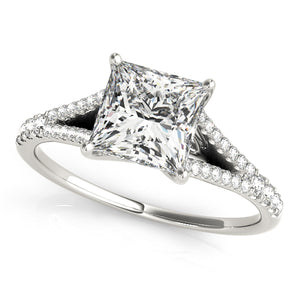 Princess Cut Diamonds 101
WHAT IS A PRINCESS CUT DIAMOND?
A princess cut diamond is traditionally a square diamond that offers excellent fire and brilliance.
When turned upside down they resemble pyramids, and their four sharp corners offer a subtle edge to the femininity of their sparkle.
WHAT IS THE ORIGIN AND HISTORY OF PRINCESS CUT DIAMONDS?
Many believe the history of the princess cut dates back to the 1970s when a new shape, the Barion Cut, was introduced by Basil Watermeyer. This particular cut was actually more a combination of the emerald cut and the marquise cut. Princess diamonds actually date back to 1961 when a diamond cutter who was based in London, Arpad Nagy, created what was known then as a profile cut. That same cut is now known as the princess cut. After a few years, Betzalel Ambar, Ygal Perlman, and Israel Itzkowitz popularized the new name, which is why we all known them now as "princess cut".
WHAT TO CONSIDER WHEN BUYING A PRINCESS CUT DIAMOND
Considering Length to Width Ratio 
Princess cuts can be either square or rectangular. The ideal ratio, from length to width, of a square princess cut is 1.00 to 1.04. The ideal ratio of a rectangular princess cut is 1.07 to 1.15. 
Considering Diamond Quality  
Turn to the 4C's of diamond quality when shopping for a princess cut diamond.
PRINCESS CUT DIAMOND & THE 4C'S
Princess Cut Diamond: Cut
Cut is especially important as it impacts the brilliance, or sparkle, of your stone. A less well cut diamond will appear more dull, while excellent cut diamonds should retain their dazzling beauty. For that reason, you should look for a stone with an excellent cut, polish, and symmetry.
 Princess Cut Diamond: Color
When it comes to color, you need to be a little more careful with a princess cut diamond than you would with a round brilliant. Since both are brilliant cuts, they both succeed in chopping up the light so the true color of the rough material is harder to perceive. But since the light return on the round brilliant is superior, it is also better at keeping the true color of your diamond a secret. Because of this, we recommend when buying a princess cut diamond that you either pick an G color diamond for the best value.
Princess Cut Diamond: Clarity
In general, a princess cut diamond ring will disguise minor inclusions fairly well. However, be on the lookout for any inclusions around the four corners. Princess cut diamonds have four, sharply pointed corners that are prone to chipping, and even more so when there's an inclusion in this area.
Princess Cut Diamond: Carat Weight 
Keep in mind, though, that princess cuts carry more of their weight in their center or belly. That means they're deeper stones than round brilliants and will look smaller at the same carat weight. That's because their weight, instead of spreading to their sides like the round, spreads downward.
Choice of carat weight is largely down to budget and preference. If your budget allows, you will generally look at diamonds of a larger carat weight. And if size is a priority, you may wish to allocate more of your budget towards carat than to other areas, like color and clarity.
It's advisable not to sell out completely to get the largest princess diamond possible, however. Ensure you leave enough of your budget to get a well-cut diamond, and one with decent grades in color and clarity. A large diamond is not going to look that impressive if it's poorly cut, or contains a lot of inclusions.
BEST PRINCESS CUT DIAMOND RING SETTINGS
Because princess cuts are quite versatile, there are several stunning setting options. Remember, a princess cut diamond has pointed edges so it's important to ensure the corners don't get chipped or damaged. A channel set or four-prong will offer protection without masking the diamond's beauty. 
SOLITAIRE SETTING FOR PRINCESS CUT DIAMOND
Princess cuts steal the show with a classic solitaire setting. Known for their simplicity, solitaires are accent-less bands that are available in all of your favorite gold such as white, yellow, and rose gold. This setting will draw attention to a princess cut and can create the illusion of a larger carat weight.
(Click here to view the ring pictured above.) 
SINGLE ROW SETTING FOR PRINCESS CUT DIAMOND
Looking for an extra hint of sparkle? Single row engagement rings feature accent diamonds or gemstones for some added pop along your ring's band. The accent diamonds will be sure to accentuate that beautiful princess cut center diamond.
(Click here to view the ring pictured above.)
VINTAGE-STYLE SETTING FOR PRINCESS CUT DIAMOND
Something old, something new, something borrowed, something blue… a vintage-style princess cut engagement ring might not fit the bill for the something old category, but rings in this setting do give off a retro vibe. Vintage-style engagement ring settings highlight the charm and style of old-school designs and can be crafted using various gemstones and metals
(Click here to view the ring pictured above.)
HALO SETTING FOR PRINCESS CUT DIAMOND
For the person who likes to stand out from the crowd, a halo setting rivals the twinkle of the night sky with a center gemstone surrounded by elegant accent diamonds. Pair this with the sought after princess cut diamond and you have a ring that is trending.
(Click here to view the ring pictured above.)
PAVÉ SETTING FOR PRINCESS CUT DIAMOND
A pavé setting will make your ring stand out more, without taking away from the princess cut diamond as a centerpiece. The round accent diamonds add some flair to the ring, at the same time amplifying the fire of the center stone.
(Click here to view the ring pictured above.)
THREE-STONE SETTING FOR PRINCESS CUT DIAMOND 
Why should you settle for one stone when you can have three? With two large accent stones on either side of the center princess cut diamond, this setting is exactly as the name implies. The three-stone diamond setting also allows for some creativity as you can personalize the ring with the addition of colored side stones like emeralds, rubies, or sapphires.
(Click here to view the ring pictured above.)
 PRINCESS CUT DIAMOND JEWELRY
This cut is a popular choice for far more than princess cut diamond engagement rings. You can find the stunning stones on everything from necklaces to earrings to bracelets. No matter what you choose, princess cut diamonds are an excellent way to feature your unique, yet classy style! Stop by Devon's Diamonds & Decor in Boca Raton to talk to us about custom designing a beautiful piece of jewelry that features a princess cut diamond.
Curious about what other diamond shapes there are?
Check out our Diamond Shapes 101 blog post!
---