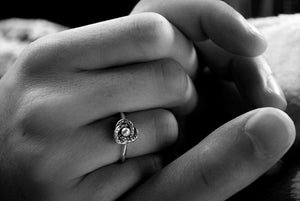 Promise Rings
Have you thought about sharing a symbol of your love with someone, but aren't sure how to go about it? Promise rings are a great way to share a future commitment with someone, whether that commitment is friendship or something more.
WHAT IS A PROMISE RING?
While many have heard of the practice or know someone who may be wearing a promise ring alongside their partner, a lot of individuals admit they're unsure of the purpose of promise rings and the significant meaning behind them.
More than gifting a piece of jewelry, promise rings for couples (as well as individuals) symbolize a token of longevity and commitment. 
Since there are a few unknowns when it comes to the true definition of a
promise ring meaning
, we broke down the history and stories behind the practice as well as our favorite styles of promise rings. Read on to see if you, or you and your partner, could be ready to make the next big step and commit a promise.  

PROMISE RING HISTORY
Believe it or not, we can date promise rings all the way back second century BC. In ancient Rome, there were laws put in place that detailed a bride and groom must hold off on announcing their marriage for a certain period of time while the courting process was taking place. With the time in waiting, women would wear the rings as a token of promise to their future partner. 
Since that time, the meaning behind the promise ring began to change, but always kept similar intentions. The most relatable, and closest version to our knowledge of
promise rings for couples
, comes from 1600 England.
Known as Posy Rings back then, each of these tokens came with (yes a promise) an engraving or gemstone to signify romance. Some of the engravings on the rings would be popular love poems or romantic scripts.
PROMISE RING MEANING
Given every person and relationship is different, there can be many meanings behind the staple question,
what is a promise ring
? The most popular and well known meaning behind the ring, speaks to the practice of promise rings 
for couples, yet there are actually a few different reasons why one might gift someone a promise ring.
PRE-ENGAGEMENT
A promise ring is known as a precursor for an engagement. Promise rings are perfect for couples not ready to take on the next step of marriage, but have the understanding that they see a future for themselves together. 
It symbolizes that you want to get engaged in the future, but not at this moment. 
MONOGAMY
Another reason to gift a promise ring is to show monogamy. This symbolizes that you are committed to your relationship and intend to be intimately exclusive.
FRIENDSHIP
While couples gain all the spotlight when it comes to wearing promise rings, friends can also share this special bond as well. Growing up, the iconic best friend necklaces, charms, and bracelets were tokens to one another to signify the importance of one another's platonic friendship. Now, the practice has moved its way over to matching promise rings. Friends typically exchange the same ring and wear them on the same finger.
CHASTITY
Another significant meaning behind
promise rings for couples
, or for an individual, speaks to chastity and saving themselves for marriage. Worn as a promise to abstain from sex, promise rings can be gifted from parent to child, in a relationship, or to one's self.
What finger do you wear a promise ring on?
A promise ring can be worn on any finger. It's usually not worn on the traditional ring finger, so that it's not confused for an engagement ring.
However, if you have bought the promise ring for a proposal, in lieu of a proper engagement ring (and you're planning to upgrade to a more expensive ring in the future) then wearing the promise ring on your ring finger makes perfect sense.
Some people may also choose to wear their promise ring on a chain around their neck. Otherwise, p
opular options are the ring finger or the middle finger of the left hand or the middle or fourth finger on the right hand. Some people also wear a promise ring on a chain around their neck.
How do you give someone a promise ring?
In the past, promise rings were given by men to women, but some men wear promise rings for their girlfriends and many modern couples exchange promise rings. In many Asian countries, couples pick out promise rings together and wear them on their ring fingers to show that they are in committed relationships.
Promise rings are often given on special occasions, such as birthdays, holidays or dating anniversaries, but they can be given on any occasion. It is important to discuss with your significant other before giving a promise ring or the ring might be mistaken for an engagement ring, and the confusion might ruin the special moment.
It is a good idea to discuss with your loved one what the promise ring means. Besides serving as statements of love, promise rings generally have unique significance to each couple. When giving or exchanging promise rings, couples will often talk about what their relationship means to them in the present and what the ring promises in terms of the future.
PROMISE RING STYLES
Now that we've covered the many variations of a
promise ring meaning
, it's time to jump in and discuss the various styles of promise rings on the market. We believe quality should be the core essence of a promise ring. 
A promise ring should have a touch of personal style, yet not be so ornate or fashionable that your partner will get tired of wearing it, or they cannot combine it with outfits. 
Whether you prefer many stones, a singular stone, or a twist on the classic promise ring, we have a wide variety of options meant to fit any taste. 
DIAMOND SOLITAIRE RING
The closest traditional ring to a standard engagement style, the solitaire ring is the perfect option for those looking to purchase a
promise ring for couples
. Some say, the significance of one stone on the ring can stand for endurance and stability - the most ideal combination for a couple looking to declare their promises and future to one another. 
DIAMOND CLUSTER RING
If a solitaire diamond is too much for your budget, consider a diamond cluster ring 
made of smaller stones. Several small diamonds set together are more affordable than a solitaire.
GEMSTONE RING
]
Gemstones make beautiful alternatives to diamonds and can be more affordable. However, be wary of 'soft' gemstones, such as opal, which are easily scratched or broken, or gems that are easily damaged by water, such as pearls – they are not suitable for constant daily use. Instead choose a hardy gem ring, such as a sapphire ring, ruby ring, emerald ring, aquamarine ring, tanzanite ring, blue topaz ring, etc. 
RING WITH SYMBOLS & UNIQUE SHAPES
Crafting meaning behind strong symbolism and shapes has been conveyed since the beginning of our communication with one another, recently it also has been an immensely growing trend in the jewelry community - particularly promise rings. Regardless of which direction your
promise ring meaning 
takes, symbols and shapes help showcase your belief behind the ring. For instance a diamond double heart ring. We recommend this piece as a promise ring for couples, as two matching hearts symbolize the joining of two physical hearts. Or you can go with a diamond infinity ring. Just like the promise you've made to yourself or another, the infinity symbol stands for a lifelong commitment. Or you can go with a crown-motif rings (shown above) to show your partner that she is the queen of your heart.
DIAMOND THREE STONE RING
This timeless ring setting has two mirroring stones on either side of a larger center stone, equaling three stones total (giving the ring it's name). Three-stone rings are often used to represent a couple's life together because they symbolize the past, the present and the future of a couple's relationship.This romantic significance makes three-stone rings ideal as promise rings.
PROMISE RINGS NEAR ME
Giving someone a promise ring is a big deal and it should not done lightly. Though not a proposal of marriage, it's a heartfelt and serious symbol of lasting love and deep commitment. Therefore, choosing a promise ring should be done with lots of love and care, to ensure your loved one can wear and cherish it for a long time. Regardless of your style or personal meaning, our jewelry store in Boca Raton has plenty of promise rings to choose from to symbolize your love and devotion. At Devon's Diamonds & Decor, we have an array of different promise ring styles that anyone would cherish. From sterling silver to gold promise rings, our rings come in a variety of popular precious metals. Shop online or visit our Boca Raton jewelry store to find the perfect promise ring.
---